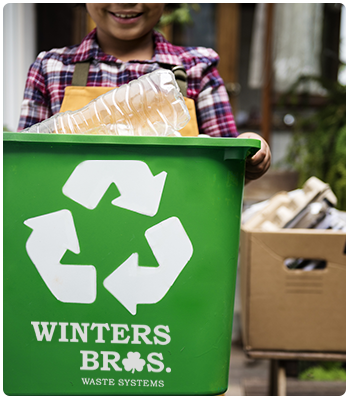 Recycling is good. Unfortunately, it's also expensive. The Winters Bros. team wants to educate you by offering the latest news about recycling. We also offer some simple recycling tips to make recycling better. To learn more about the changing world of recycling, industry news and trends, click on these links to news articles and information about the current challenges in recycling.
California has a recycling crisis. The only way to solve it is to stop making so much trash
6 Things You're Recycling Wrong
Your Recycling Gets Recycled, Right? Maybe, or Maybe Not
US starting trade war over National Sword
General info on national sword
Only receiving 10% of sales after China's demand
Recent changes in the recycling process — namely new guidelines being enforced by China, a major importer of recyclable materials created in the U.S. – is causing the cost of recycling to increase.
Tips for Good Recycling
Being a good recycler is important. At work and at home, if you're not careful when recycling, you could be preventing tons and tons of materials from ever seeing a second life. That's right, just one non-recyclable item can spoil an entire batch of otherwise good materials.
We need to work together to make recycling work.
Follow these tips:
Don't contaminate good recyclables.
Keep recyclables dry.
Rinse out all containers.
YES
Metal Cans – steel, tin and aluminum soda, vegetable cans, and tuna cans. (rinse clean and dry)
Plastic Bottles and Containers
Paper and cardboard – dry and free of food debris
Paper Brown paper bags, office paper, newspaper, magazines
NO
Food waste
Plastic bags
Polystyrene foam cups and containers
Hangers
Medical waste – do not place medical waste (needles, catheters or lancets) into recycling containers.
Tissues, paper towels or other paper that has been in contact with food is not acceptable.
We update this site regularly, so check back for the latest information related to the quality of our recycling stream.