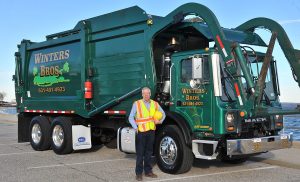 The Town of Brookhaven will close its landfill in 2024.  When the gates shut for the last time, some 5,000 tons of waste each day will need to find an alternative disposal location.  That is more than 1.2 million tons per year.
Unfortunately, Long Island's environmental infrastructure is ill prepared for managing waste once the Brookhaven Landfill closes.  The inaction by past planners, former government officials, regulators, and industry have resulted in today's very real crisis.  Moreover, naysayers who push a no-action agenda are making matters worse for Long Island's environment while contributing to a very real climate change crisis.
Winters Bros. is committed to developing environmentally friendly, sustainable projects to ensure waste is properly managed.  Our solutions are beneficial to the environment, the economy, and the community.
Recently we invested more than $7.5 million in new recycling systems while working with groups to explore Zero Waste initiatives.  We have replaced older trucks with cleaner vehicles and low-emission engines.  And we have boldly embarked on one of the largest infrastructure development projects on Long Island, which will improve air quality and preserve green space.
Winters Bros. remains committed to engaging with and supporting the communities in which we operate. We are one of the few companies on Long Island that has an Environmental Justice Policy. We stand firmly by the belief that fair and equal access to a safe and healthy environment is a basic human right. With this guiding principle, it is our intent to maintain an open line of communication with the community throughout this process and take into consideration their thoughts and concerns. If you have questions, please ask them.
The same old business won't get it done anymore and Winters Bros. is taking action to solve problems and keep Long Island Green.  Remember, if you're not part of the solution, you're part of the problem.