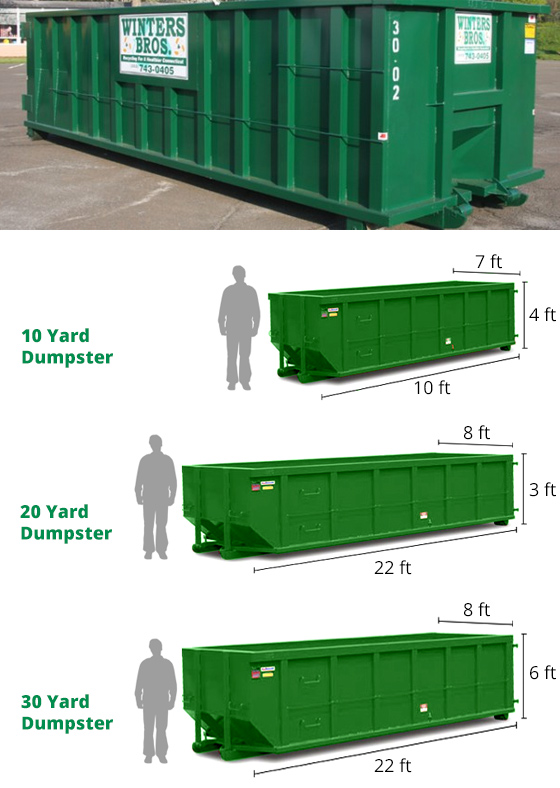 Dumpster rental with Winters Bros. We have a full line of roll off containers that are ready to be delivered to your construction project or job site. From residential construction to large-scale commercial and industrial construction jobs, our radio dispatched trucks are nearby and ready to get you the Dumpster to meet your needs. We pride ourselves on fast and reliable service. When we say we'll be there, you can count on us! Proudly serving Nassau County, Suffolk County, Long Island, Smithtown, Riverhead, Islip, Huntington, Northport and the surrounding communities.
We have a variety of sizes of Dumpsters available to meet the requirements of your next job. Whether its for home remodeling and demolition, yard projects, or the removal of large items, we can have a container ready for you quickly. Give us a call to discuss your project and we'll help you decide on the right size container for the job.
Dumpster Rental Sizes Available in Long Island:
30 yard dumpster  -30 cubic yard (22 x 8 x 6 ft) – larger remodeling and construction
20 yard dumpster -20 cubic yard (22 x 8 x3 ft) – spring cleaning, garage clean out
10 yard dumpster -10 cubic yard (10x7x4 ft)  – small remodeling, concrete/brick or asphalt work
These are the standard sized dumpsters we have available that are suited for the vast majority of projects our customers might consider. If you're interested in a different size than what we have listed here, don't hesitate to give us a call. We can also offer smaller and larger sizes and anything in between, so be sure to contact us today to discuss your needs!