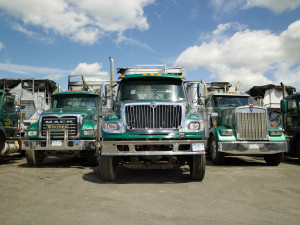 Winters Bros. Waste Systems is the premier solid waste and recycling company on Long Island.  The Company provides a full range of solid waste and recycling services to commercial, residential, industrial and municipal customers.  Services are provided through a network of regional operations including multiple hauling locations, six recycling centers, and 12 transfer stations.  The Company has a long and successful history in the solid waste and recycling business dating back to the 1950's.  Today, Winters Bros. employs 500 dedicated people.  The firm's corporate office is in West Babylon, NY.Winters Bros. is the recognized leader in the waste collection and recycling industry on Long Island.
We are a talented team comprised of more than 500 employees.
We are Long Islanders.  We are locally owned and operated.  We know the Island.
We care about our customers, our people and the environment.
We are safe.  Safety is our #1 priority.
We are a team that is committed to serving you and delivering superior services.
We are a company that solves your problems.  You need waste and recycling services and we can provide you with a cost effective and environmentally secure service.
We can customize an environmental program that is designed to meet the unique needs of an individual homeowner, business or an entire community.
Give us a call and experience the best service on Long Island.